If you are interested in getting a custom board made?
Here are a few things to consider before getting started:

  0. Construction method and materials.
  1. What "model" do you want?
  2. Types of construction.
  3. Style and design.
  4. Fin system.
  5. How to get your board.
  6. Prices and payment method.
  7. FAQ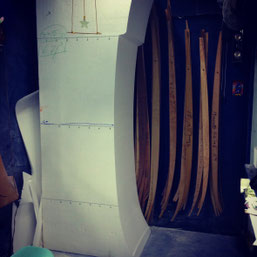 0. All Elleciel surfboards are made using expanded polystyrene (EPS), epoxy resin, fiberglass cloth, paulownia wood, and sometimes additional materials.
Then there are a few options of how all these materials come together: the most common being the use of cloth (cotton, polyester, rayon, etc… anything but nylon!) as an inlay for the bottom & rails, or rails only. Different types of carbon and Innegra rail bands can also be used, but only on boards getting wood on the deck and bottom.

You can watch the 7-minute video on how the board is built, but I will go through the main steps here.
It is a process of about 25-35 hours spanning eight days to build one board, everything is made by two hands only.

a)    The construction starts with two different jigs used to hot-wire (cut) the EPS blank – a pair for the foil (rocker of the deck and bottom) and one for the outline. I have many of these jigs in which we usually find what we need, but to "replicate" a particular board or for something I haven't done before, new jigs may need to be made. Note that a few different jigs can be combined to create an outline, but not for the foil.
b)    The board is then 100% hand shaped.

c)    Next comes the glassing of the rails for boards getting deck and bottom wood skins, or for boards with wood on deck only; bottom and rails are usually glassed with a cloth inlay.
d)    The wooden skins are then applied using a vacuum-bagging technique to apply even pressure over the entire board.
e)    The board is then glassed and coated before installing fin plugs or fin box. Of course, a lot of sanding happens in between each of those operations. All boards end up with a matte sanded finish. If you want your board to be shiny, get it wet!
Since June 2017 all boards (but on demand) will be built using SUPER SAP, a high bio based content epoxy resin from Entropy Resin.
1. The first question usually is "what model?"

a)     If you found something that you like in the "Boards Gallery", please tell me what model or board number (#xxx) and in what dimensions you want yours.
b)    If you want something else, please send me as much information as possible – pictures, web links, info regarding the bottom contour, rails, etc…). I will then let you know if I have something close to it that I could modify or if new jigs have to be made (for an extra 1,000-2,500 Thai baht). And there will most likely be more questions to follow.

c)    Foam blanks are limited to 9'2" in length (but a bit more can be added) and 23½" in width. Let me know what you want and we will see if it's possible.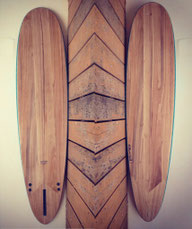 a.    Paulownia wood on deck and bottom with either:
       1) glass "only" rails (with colour pigment)
      2) cloth inlay and/or carbon (there are a few different types of carbon band)
      3) Innegra rail band (black or white stripes).
Note that Innegra and some carbon bands can be used underneath the cloth inlay. The option with wood on both sides is the strongest – add carbon or Innegra rails for extra longevity. If you choose this option, please let me know what colour and/or rail tape (carbon, Innegra and/or cloth inlay) you want.
b.    Paulownia wood on deck only with cloth inlay on bottom and rails.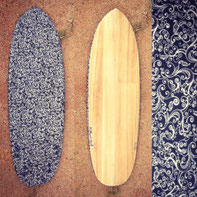 This option is usually slightly lighter and softer/flexier than wood on both sides. If you choose this option, you will have to decide what cloth you want for the inlay. Since I have four boxes full of cloth choices and the collection keeps growing, a good start is to tell me what style you like from the Boards Gallery. I may not have the same cloth, but I could then show you what I do have in a similar style. Of course you can provide your own cloth, just remember "no nylon" and the thicker it is, the heavier the board becomes. Also, once laminated with epoxy, fabric appears as if wet. Colours usually look darker than when dry. The cloth needs to be smooth without seams, embroidery, strong texture, etc.
3. Most of the board's style comes from the wood pattern and the cloth inlay used, but you can personalize your board even more with:   
    a. Wood work: it can be done like on the pictures shown below. The price varies depending on the complexity (everything isn't possible here).
    b. Pin lines: 1-2mm colour line in between the wood and rails can be made. Pick your colour! They are usually necessary on boards with wood work.
    c. Designs or logos can be printed in colour (except white) on rice paper up to A4 size. I recommend keeping it simple and not too big. Note that my printer does not accept weapons and a few other symbols.

    d. Wood blocks can be added to nose and tail, but it makes sense strength-wise with "wood-on-both-sides" boards only. Note that all boards get several layers of extra glass on nose and tail anyway.
4. On boards with wood on bottom, FCS1-style plugs, 8"-10" fin boxes and FUTURES boxes (B/W) can be set. Note that FUTURES boxes can be tricky to set on boards with channels. Even if FCS1 looks "old school" from the outside, the plugs are strongly bonded to wood supports set in the foam blank and connected to the wood skin on the deck with super strong results. Glassed-on fins can be foiled and set as well. About FCS2, it can be organized but it takes time to order plugs ( I have all the equipment to set them).
5. How to actually get your board in your hands can be a bit complicated if you are not in Thailand or planning to come here.
Usual carriers like UPS, FedEx, etc. can be used but are really expensive as prices are set according to the dimensions and not the weight. You can check prices on their respective websites adding about 5cm (2") to every dimension of the board(s) and use Phuket, Thailand postal code 83100 (full address here) as the departure address.
A good way to get your board can be to find a mule (friend or family) coming back from Thailand. It costs about 1,000 baht ($35USD) to ship a board within Thailand to your mule's hotel, for example, and then there is no need to come to Phuket personally. I will carefully pack your board in cardboard and foam, ready to fly. Check with the airline if they charge extra for "sports equipment".
6. Pricing varies depending on what you want. I can send you a quote according to your request.
To get an idea:
(as from July 2023)
                         Wood deck             Wood deck 
                              &                         &
   Size                  Fiber bottom              bottom
                                  (in thb)                       (in thb)
5' - 6'6"                 21k (~600 USD)            24k
6'7" - 7'6"               23k                       25k
7'7" - 8'6"               26k                       28k
8'7" - 9'2"               28k                       29k
9'3" - 9'8"             on request              on request
- Board comes with FCS1 plugs, fin key and wax
- Extras: +Model requiring new jigs (foil/outline)
          +Futures boxes
          +8" or 10" boxes
          +Swallow tail, fliers/wings and Co.
          +Channels 
          +Cloth, carbon or Innegra rails
          +Glassed on fins
          +…etc.
7. FAQ
    -Are those boards strong considering their light weight?
    -Leash loop: Some may worry that leash loops are weak, in fact it is stronger than "normal" leash plugs. Look at old school longboards weighting 10+kg! I have had only one failure out of several hundred boards (and it was one of the first one).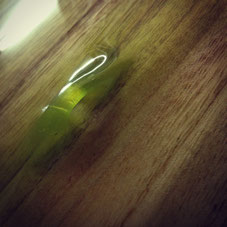 However, I can set a "normal" leash plug by request.